Thailand is known for a number of things including – beaches, foods, massage, Buddhist temples, etc. Among all of these, Yoga finds a special place. Having close relations to Indian traditions and being a Buddhist nation, Thailand has long been associated with Yoga and spirituality. Over the last few decades or so, the Asian country has emerged into a global Yoga holiday hub. Its spectacular beaches, picturesque waterfalls, and luxuriant vegetation make the nation a soul-enchanting destination. Experiencing the healing beauty of Yoga in the proximity of such stupendous exuberance is nothing less than a feeling of bliss. And it becomes all the more rejuvenating and relaxing when you decide to unplug yourself for a few days with a yoga retreat vacation.
Here are the six best Yoga retreats in Thailand that are a popular choice among travelers.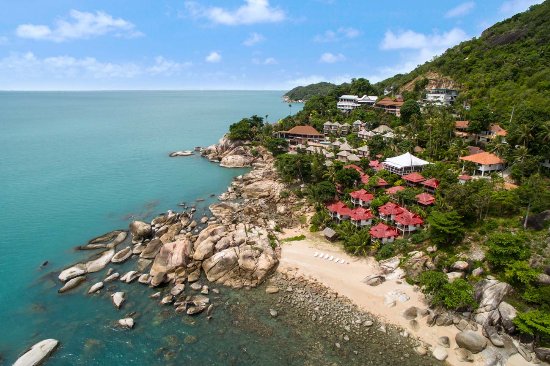 Vikasa Yoga Retreat
Koh Samui's magical Yoga environment is blessed with an abundance of yogic beauties and Vikasa Yoga is certainly one of the finest among them. It is an assortment of transformational, life-changing and inspiring experiences. It is a place where you can witness the scintillating merger of Yoga and bliss in the virgin lap of nature. Understand the real meaning of Vikasa (evolution) by walking on the purest path of personal development with VYR's incredible team of spiritualists. Its holistic aura and inspirational environment are sure to attract your soul.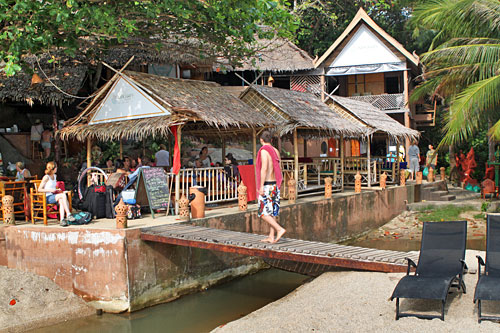 The Sanctuary Thailand
One of the most popular Yoga retreats in Thailand, The Sanctuary, stands for everything that an ideal Yoga resort should be. It is inspired by the vision of delivering the teachings of Buddha to help aspirants discover themselves. The retreat is a great destination for all those who want to feel connected with nature, with spiritual processes such as Yoga, meditation, detoxification, healing, etc. Get acquainted with the power of relaxation, imbibed with the beauty of Yoga here at the Koh Phangan resort.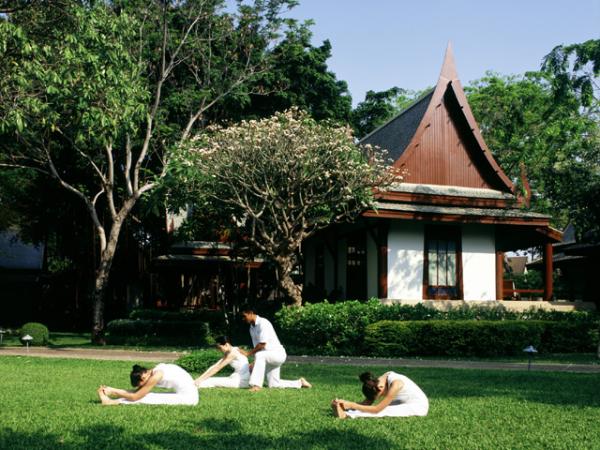 Chiva Som International Health Resorts
This place defines luxury in a different tone. Self-designated as the heaven of life, it is a sanctuary where lives transform and improvisation blooms. The retreat promises to pay equal care to the mind, body and soul during the process of helping you flourish on the path of self-discovery. Detox programs, holistic wellness, physiotherapy, nutritional teachings, etc. – these are the primary offerings of Chiva Som International Resorts, which is located in Prachuap Khiri Khan.
Samahita Retreat
If you are looking to spend your holidays with family, Samahita might be your best decision, owing to its astonishing assortment of Yoga retreats on the beachside. From beginners' events to advanced Yoga events, Samahita is home to wide-ranging Yoga retreats, from where you can select the suitable one for you. The amazing accommodation includes garden view windows rooms that are enough to win the heart of visitors. Its location in the middle of luscious vegetation is also a plus point for Yoga travelers.
The Yogarden
As its name depicts, the Yogarden is a pristine garden for yogic souls seeking a soulful experience. Soak the warmth of the Sun on Koh Samui's breathtaking beaches while enjoying a life-changing detoxification retreat with the Yogarden. A certified team of health experts and yogis aspire to offer tons of memories and yogic experiences to the aspirants who come here to fall in love with Yoga and nature. The retreat center also offers Yoga therapy and yoga teacher training.
Suan Sati Retreat Center
On the sacred banks of the Ping River, there is this beautiful Yoga retreat, Suan Sati in Thailand's most astonishing city, Chiang Mai. Far from the hassle of the city life, located amidst affluent natural vegetation, Suan Sati is an ideal place to plunge into the ocean of spiritual wellness. You will get an opportunity to relish the most memorable moments of life overlooking astonishing natural beauty. Choose from a wide pool of Yoga retreat programs here at Suan Sati.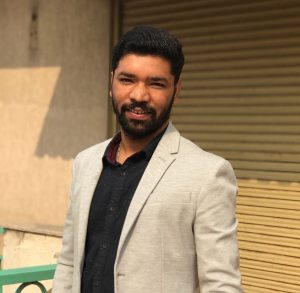 Author Bio : Manmohan Singh is a passionate Yogi, Yoga Teacher and a Traveller in India. He provides Ayurvedic Treatment In Kerala. He loves writing and reading books related to yoga, health, nature and the Himalayas.
Website: https://rishikulayurshala.com/